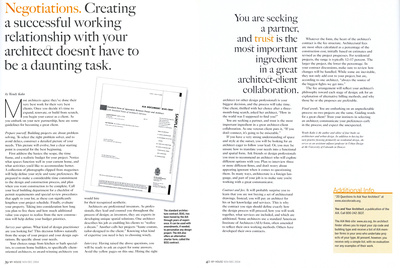 Columnist, Wendy Kohn
My House
(Nov/Dec 2004): 39-40
Creating a successful working relationship with your architect doesn't have to be a daunting task.
Most architects agree they've done their very best work for their best clients. Once you decide it's time to expand, renovate, or build from scratch, you begin your career as a client. As you embark on your new partnership, here are some guidelines for becoming a great client.
Prepare yourself
. Building projects arc about problem solving. To select the right problem solver, and to avoid delays, construct a detailed picture of your needs. This picture will evolve, but a clear starting point is essential for the best beginning.
First address the basics: the scope, the time frame, and a realistic budget for your project. Notice what spaces function well in your current home, and what activities you'd like to accommodate better. A collection of photographs clipped from magazines will help define your style and taste preferences. Be prepared to make a considerable time commitment to the design and construction process, and plan when you want construction to be complete. Call your local building department for a checklist of permit requirements and special review procedures that apply to your lot, as these can significantly lengthen your project schedule. Finally, evaluate your property. Taking into consideration how long you plan to live there and how much additional value you expect to realize from the new construction will help define your budget priorities.
Survey your options
. What kind of design practitioner are you looking for? This decision follows naturally from the scope of your project and your design aspirations. Be specific about your needs.
Your choices range from kitchen or bath specialists, to custom home builders, to specifically client-oriented architects, to award-winning architects you would hire for their recognized aesthetic.
Architects are professional inventors. As professionals, they lead and counsel you throughout the process of design; as inventors, they are experts in developing unique spatial solutions. One architect describes his job as enabling his clients to "realize a dream." Another calls her projects "haute couture, tailor-designed to the client." Knowing what kind of expertise you need is key to choosing wisely.
Interview
. Having raised the above questions, you will be ready to ask an expert for some answers. Avoid the yellow pages on this one. Hiring the right architect (or other design professional) is your biggest decision, and the process will take time. One client, thrilled with her choice after a three -month-long search, asked her architect, "How in the world was I supposed to find you?"
You are seeking a partner, and trust is the most important ingredient in a great architect-client collaboration. As one veteran client puts it, "If you don't connect, it's going to be miserable."
If you have a very strong understanding of space and style at the outset, you will be looking for an architect eager to follow your lead. Or, you may be unsure how to translate your needs into a functional and spatial form. Ask friends or design professional' you trust to recommend an architect who will explore different options with you. Plan to interview three or more different firms, and don't worry about appearing ignorant when it comes to questioning them. In many ways, architecture is a foreign language, and part of your job is to make sure you're working with a great communicator.
Contract and fees
. It will probably surprise you to learn that you are not buying a set of architectural drawings. Instead, you will pay an architect for his or her knowledge and services. This is why the contract you sign should define exactly how the design process will proceed, how you will work together, what services are included, and which are additional. Some architects use a standard American Institute of Architects (AIA) form, often amended to reflect their own working methods. Others have developed their own contracts.
Whatever the form, the heart of the architect's contract is the fee structure. Architectural fees are most often calculated as a percentage of the construction cost, initially based on estimates and revised as the project progresses. For residential pmjects, the range is typically 12-17 percent. The larger the project, the lower the percentage. In your contract discussions, make sure to review how changes will be handled. While some are inevitable, they not only add cost to your project, but are, according to one architect, "always the source of ihe biggest fights we get into."
The fee arrangement will reflect your architect's philosophy toward each stage of design; ask for an explanation of alternative billing methods, and why those he or she proposes are preferable.
Final words
. You are embarking on an unpredictable process: no two projects are the same. Guiding words for a great client? Trust your instincts In selecting an architect; communicate your preferences early in the process; and expect the unexpected.□