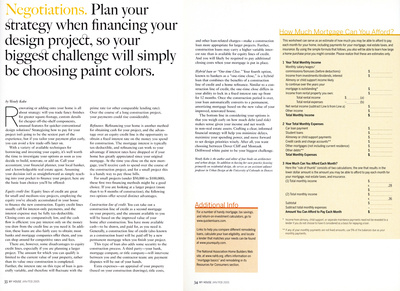 Columnist, Wendy Kohn
My House
(Jan/ Feb 2005): 33-34
Plan your strategy when financing your design project, so your biggest challenge will simply be choosing paint colors.
Renovating or adding onto your home is all about strategy: will you trade fancy finishes for greater square-foot age. custom details for cheaper off-the-shelf components, unusual features for quicker conventional design solutions: Strategizing how to pay for your project isn't going to lie the sexiest pan of the experience, but if you tailor your payment plan early. you can avoid a few trade-offs later on.
With a variety of available techniques for borrowing and investing your equity, it's well worth the time to investigate your options as soon as you decide to build, renovate, or add on. Call your accountant, your financial planner, your local banker, and a knowledgeable real estate agent. Assuming your decision isn't as straightforward as simply reaching into your pocket to finance your project, here are the basic loan choices you'll be offered:
Equity credit line
. Equity lines of credit arc great for small and medium-size projects, employing the equity you've already accumulated in your house to finance the new construction. Equity credit lines usually call for interest-only payments, and the interest expense may be fully tax-deductible. Closing costs ate comparatively low, and the cash How is efficient: you pay interest only on the money you draw from the credit line as you need it. In addition, these loans arc also fairly easy to obtain; most banks and mortgage companies offer them, and you can shop around for competitive rates and fees.
There are, however, some disadvantages to equity credit lines, especially if you are planning a larger project. The amount for which you can qualify is limited to the current value of your property, rather than its value once construction is completed, further, the interest rate on this type of loan is generally variable, and therefore will fluctuate with the prime rate (or other comparable lending rate). Over the course of a long construction project, your payments could rise considerably.
Refinance
. Refinancing your home is another method for obtaining cash for your project, and the advantage over an equity credit line is the opportunity to obtain a fixed interest rate on the money you spend for construction. The mortgage interest is typically tax-deductible, and refinancing can work to your advantage if interest rates have dropped or if your home has greatly appreciated since your original mortgage. At the time you close on the new mortgage, you'll receive cash to spend over the course of the construction project, and for a small project this is a handy way to pay those hills.
For small projects (under $50,000 to $100,000), these first two financing methods might be a good choice. If you are looking at a larger project (more than 6 to 8 months of construction), the following two options offer several distinct advantages.
Construction line of credit
. You can take out a construction line of credit as a second mortgage on your property, and the amount available to you will be based on the improved value of your home after construction. You have more available cash—to be draw n. and paid for, as you need it. Generally, a construction line of credit (also known as a construction loan) will be paid off by a new permanent mortgage when you finish your project.
This type of loan also adds some security to the construction process. A third party—your bank, mortgage company, or title company—will intervene between you and the contractor team: any payment disputes will be out of your hands.
Extra expenses—an appraisal of your property (based on your construction drawings), title exists, and other loan-related charges—ma loan more appropriate for larger projects. further, construction loans may carry a higher variable interest rate than is available for equity lines of credit. And you will likely be required to pay additional closing costs when your mortgage is put in place.
Hybrid hint or "One-time Close
." Your fourth option, known to bankers as a "one-time close," is a hybrid loan that combines the benefits of a construction line of credit and a home refinance. Similar to a construction line of credit, the one-time close differs in your ability to lock in a fixed interest rate up front for 12 months. Once the construction period is over, your loan automatically converts to a permanent, amortizing mortgage based on the new value of your improved, renovated house.
The bottom line in considering your options is that you weigh early on how much debt (and risk) makes sense given your income and net worth in non-real estate assets. Crafting a clear, informed financial strategy will help you minimize delays, maximize your spending power, and move forward to set design priorities wisely. After all, you want choosing between Dover Cliff and Montauk Driftwood white paint to be your biggest challenge.□